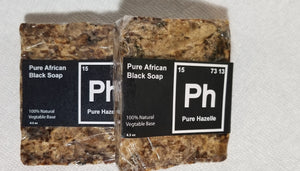 Pure African Black Soap
Sale price Price $9.00 Regular price
Tax included.
Shipping
calculated at checkout.
100% Natural, Chemical free, Fragrance free African Black Soap.
Wet bar with clean water with your hands or washcloth. Once lather can be applied to Skin or hair. Made for All Skin Types. Excellent for Psoriasis, Acene, Eczema and Dermatitis.
*One block can last up to 3 to 4 weeks
Ingredients:
Water, Cocoa pod ashes, Plantains skin ashes and Palm oil.
Size approximately: two time the size of a standard bar soap.